The best thing about travel is the sense of freedom, adventure and excitement it brings. Whether you travel to the ends of the earth or to the other end of town, it's the sense of something different that makes it so exhilarating. The last thing anybody wants is to be weighed down with concerns about whether or not their gear is safe and secure. Bags slashed, packs rummaged, drugs planted, laptops stolen, cash cards and passport swiped - some people will go to surprising lengths to ruin your travels. It takes a split second for a seasoned pickpocket to make you another victim.
After years of intrepid travel and some best-forgotten encounters, the two Australian founders of Pacsafe® were convinced of the need for no-nonsense travel security. The original Pacsafe® - the slash proof wire-mesh security net for backpacks - provided the foundations for what is now a complete travel security solution. Pacsafe products provide protection against theft and tampering. From innovative slash proof lockable security systems for luggage to wire-reinforced hip packs, neck pouches and waist wallets. Pacsafe has all your travel security needs covered.
All Pacsafe products can be safely screened by x-ray at airport security checkpoints. As with all objects large or small containing metal, such as belts, headphones, cds etc, the wire-reinforced feature of all Pacsafe products will trigger off metal detectors, so remove them before you arrive at security check points.
Pacsafe® produces three types of product:
Ultimate products are the most secure products we make. It is "the complete lock and leave system".

Fully encases and secures your belongings with eXomesh
Ultimate.
Slashproof eXomesh cage: a lighweight and slashproof hightensile stainless steel eXomesh cage encases your valuables either fitted externally or laminated between fabric.
Locks closed: the patented locking device cinches and locks the eXomesh cage completely closed.
Locks to a secure fixture: an integrated heavy duty stainless steel cable connected to the eXomesh cage and locking device locks your valuables to a secure fixture.
Enables the user to Lock, Leave and Relax.
In the fight against theft, Pacsafe has developed 4 anti-theft security features.

This is seen as medium security.
The four security features are:
eXomesh Slashgaurd

Snatchproof (Anchor clips and locks)

Slashproof (straps and belts)

Tamperproof (zippers and compartments)

| | |
| --- | --- |
| | To complement our Ultimate and Anti-theft range, we also provide a number of innovative straps, pouches, cables and locks, all intended to reduce the risk of theft. |
In response to the challenges of navigating airport security with ease, Pacsafe is pleased to introduce the ScanSafe series. With ScanSafe's Travel Sentry® Approved laptop compartment, there is no need to remove your laptop from your bag to be x-rayed. Simply unzip the bag, lay it flat and zoom through security.

In addition to the Travel Sentry® Approved design, the ScanSafe series is enhanced with Pacsafe's four signature anti-theft features.
Snatchproof 3-dial combination lock on strap allows the bag to be locked to a secure fixture

Tamperproof lockable zippers

Slashproof shoulder strap

eXomesh® Slashguard in the lower front and bottom panels
With Pacsafe, knowing that your laptop, important documents and electronic accessories are safe and secure provides peace of mind so you can concentrate on the business at hand. This is an important, when you consider that a laptop is stolen every 53 seconds in the United States. The most common places that laptops are stolen include airports, hotels and conference centers, college campuses, offices and libraries. Like all Pacsafe bags, the Scansafe series also features thoughtful design to keep your mobile office organized.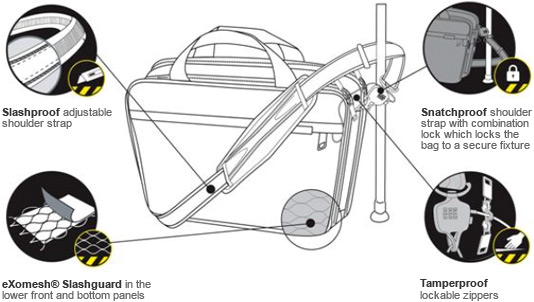 Including:
Fully padded isolated laptop compartment
Two internal slip pockets for cables and battery packs
An organizer panel with two electronic gadget pockets, one large zippered pocket, change pocket, card slots, pen holders, key clip and wallet chain connector
Front zippered slip pocket to keep boarding passes and other documents at han
Rear sleeve to secure bag on wheeled luggage handles
Comfortable padded adjustable non-slip shoulder strap and top carrying handle
Available in two sizes to fit 13" and 15" laptops
TourSafe
Wallet

Handbag with
eXomesh®

Travel Tote with
eXomesh®
| | | |
| --- | --- | --- |
| 20L Adventure Daypack with eXomesh® | 25L Adventure Daypack with eXomesh® | |

The Transportation Security Administration (TSA) continues to suggest you lock your checked baggage with TSA accepted and recognized locks. Prosafe Travel Sentry Certified (versions 610, 650, 700, 800 & 900) locks are accepted and recognized by the TSA in all US commercial airports.Luggage locks are often damaged during the search process as custom officers have no way of opening them but to cut them off. The Travel Sentry Approved PacSafe locks are recognised and accepted by the Transport Security Administration (TSA) in all US commercial airports. The Travel Sentry logo alerts TSA agents that they can open your lock and relock it using codes and secured tools during inspection.
eXomeshSlashguard panels

Many thefts succeed when the exposed lower section of bags are slashed allowing contents to drop out without the victim being aware that a theft has taken place. Pacsafe have developed slashproof panels by discretely hiding a layer of eXomesh® between two layers of fabric. These lightweight slashguards are placed in vulnerable sections of the bag, giving protection against a bag slasher's knives and blades.



Slashproof belts/straps/cables

A split second while looking at a map or asking for directions is all it takes to cut through a conventional strap or belt. To ensure your bag stays with you, Pacsafe belts and straps are embedded with slashproof, high-tensile stainless steel wire. All Pacsafe securing cables are made from heavy duty steel wire.



Snatchproof anchor clips/locks

When travelling, commuting or out with friends enjoying a meal or drink, you're not always able to keep a close eye on your belongings.

In an instant, someone can take your bag without you knowing.

That's why Pacsafe have designed products with snatchproof metal clips on slashproof belts, straps, cables or chains. These can be unfastened at one end allowing you to loop and anchor your bag to any secure fixture such as the arm of your restaurant chair, bus seat or poolside lounger.

For extra security Pacsafe have designed products which offer an additional snatchproof locking system. This system enables you to not only anchor your bag to a secure fixture but lock it safely there as well.


Tamperproof zippers/compartments

Subways, busy traffic intersections and crowded markets are prime pickpocket locations. Pacsafe products have tamperproof solutions to thwart pickpockets including zippers that lock closed or latch to a spring-loaded metal clip. Pacsafe bags with flap-covered compartments offer hidden safety hooks for extra security to keep prying hands out.
eXomesh® Ultimate - the complete lock & leave system

eXomesh® Ultimate is a multi-patented interlocking security system, giving you the ability to lock and leave your belongings. Pacsafe's revolutionary eXomesh® Ultimate products combine the following three security features to give you the "Ultimate" in our anti-theft protection.

Pacsafe products bearing the eXomesh® Ultimate logo have multi-patented technology which combines the following unique security features to give you the ultimate in anti-theft protection.
eXomesh® anti-theft technology that provides a secure cage around your gear
Integrated, heavy duty high-tensile stainless steel locking cable
Innovative locking system and padlock
Simply use the heavy duty locking cable and locking system to securely lock the eXomesh® around your belongings, then anchor to a secure fixture. Your gear is then slashproof, snatchproof and tamperproof giving you the ability to "lock and leave" your belongings.
eXomesh® Ultimate
removable laminated insert
eXomesh® Ultimate
laminated into bag fabric
eXomesh® Ultimate external
security system
www.pac-safe.com